The Wicked Queen Grimhilde!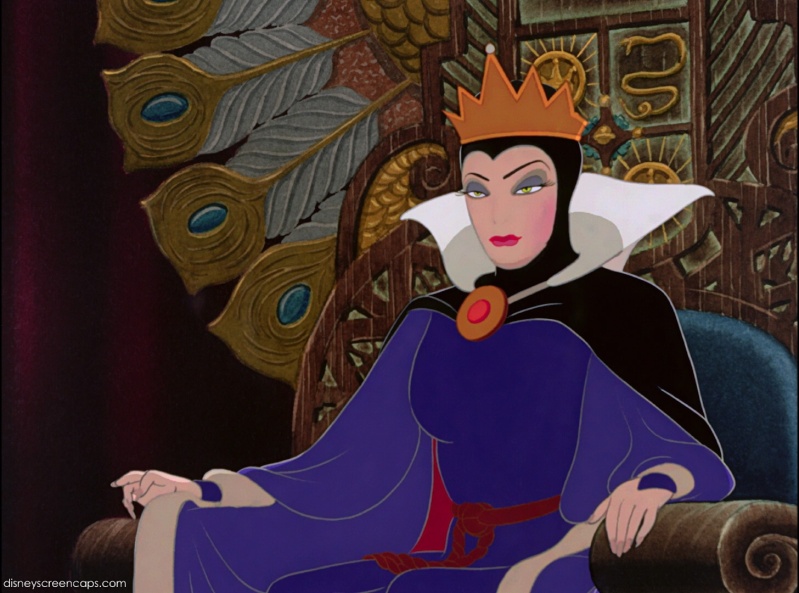 The Queen does not appear to be significantly involved in governing her kingdom. Rather, she wants nothing more than to be the most beautiful in the land. She is cold, cruel, and has an extreme vanity that made her utterly intolerant of rivals. Her vanity and jealousy of Snow White's superior beauty and The Prince's attentions eventually drove her to murderous insanity. That she transforms herself into a hideous hag to achieve this end is a sign of her determination and desperation.
Captain Hook!
Captain Hook acts as a menacing and cowardly villain. Due to this, he is made a fool of quite often. Despite this, he's still a very feared character. He is very murderous. In the film, he shot and killed one of his crew members because of his singing. Later in the film, he viciously threw one of his pirates overboard using only his hook. This makes Captain Hook one of Disney's most popular villains. Hook is extremely intelligent and is even able to trick his nemesis, Peter Pan, into believing he has surrendered. Captain Hook also seems to have a tendency to find loopholes in agreements or contracts, or show obedience to the letter of the law, rather than the spirit of the law. For instance, when Hook was made to promise that he would not lay a finger or a hook on Peter Pan, he agreed, but instead he planted a bomb disguised as a present in Peter's hideout, destroying Peter's residence, stating "I did not say I was not going to do that!" Hook also tricked Tinker Bell into telling Peter's hiding place and Wendy's daughter, Jane, into becoming apart of his evil plan to finally kill Peter and retrieve his treasure.
Captain Hook is one of the rare villains that view their sidekick as not only a minion but as a friend. While Hook is incredibly cruel, deadly, short tempered and shows no care for his crew, he seems to only tolerate the bumbling actions of Mr. Smee. It has been shown that Hook murders his crew members out of irritation and aggravation but despite the constant annoyance from Smee, Hook has never shown any desire to kill him (though he has attempted to pummel Smee for his stupidity, but he is always interrupted). Aside from this, Captain Hook also views Smee as his confident, sharing personal thoughts with Smee which is not common for a villain of Hook's acclaim.
Maleficent!

To make a long story short, Maleficent represents pure, deliberate, evil. She is ruthless and devious, and will do whatever it takes to achieve her (evil) goals. Additionally, she is very spiteful, which is shown by taunting Prince Phillip after she captures him. Her most famous quote "You poor simple fools, thinking you could defeat me. Me, the mistress of all evil." indicates that she is somewhat narcissistic. She thinks herself above everyone, even calling her closest allies "her pets".
Hades!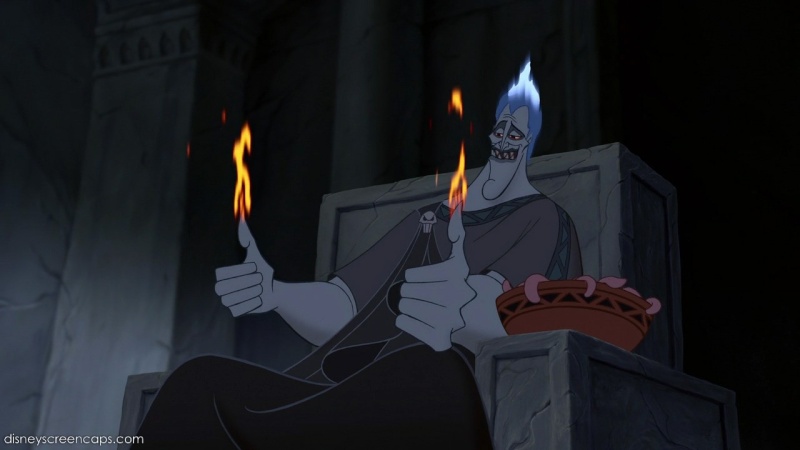 Hades appears as a blue-grey humanoid with flaming hair and a smoky base who is normally eccentric and cynical, but is very easily angered. As aGod, he is immortal, and specifically has authority over the dead. Though temperamental, he is a fast-talker, and a shrewd bargainer. At some point prior to the film, he took ownership of Megara's soul as the result of one of these bargains. Hades is shown to be jealous of Zeus's position as King of the Gods, and makes long term plans to usurp his brother.
Administrator




Posts

: 772


Join date

: 2012-01-21


Age

: 22


Location

: Banja Luka, Bosnia & Herzegovina



Shan Yu is among the most ruthless, and merciless villains ever seen in the Disney universe. He proves that it is not below him to kill his enemies in cold blood to prove his strength. He even makes jokes about it: After capturing two imperial scouts and sending them to deliver his challenge to the emperor, he asks his lead archer how many men it takes to deliver a message. The archer then draws his bow and replies, "One." Ultimately, only one scout delivers the message, implying that the archer killed the other.
Shan Yu is also supremely confident in both his and his army's strength and superiority, often deliberately allowing his enemies the advantage in order to prove his might. Such examples include his attack on the Great Wall, where he allowed a lone sentry to light the signal fire, sending word to the Emperor and giving him time to mobilize the Imperial Army. Later, he allows one of the Chinese spies to return to the Forbidden City, smugly telling the spy to inform the Emperor to send his best troops to face the Huns. He also decides to head straight for the mountain pass that would lead him straight to the Forbidden City, knowing full well that the entire Imperial Vanguard is guarding the pass and completely rejecting the option to simply go around the mountains and avoid the enemy army.
Administrator




Posts

: 772


Join date

: 2012-01-21


Age

: 22


Location

: Banja Luka, Bosnia & Herzegovina



Similar topics
---
Permissions in this forum:
You
cannot
reply to topics in this forum