The Chronicles of Disneyland I
Down to the door where it begun
Intro
In the world of Disneyland, there is a vast continent that stretches for a great distance, covering most of the world. In this unusual realm, animals have the power of speech. On the other side of the vast Atlantic, to the west, is a continent where people live like most people of a modern community - they have electricity, modern houses, and all other items that make up our everyday lives. However, the eastern continent is a land uncharted by the western people - shrowded in mystery. And in this book, we together will delve into the secrets of this fantastic world, and delve into an adventure that was heard all over, it became legendary.
Chapter I - The Southwestern lands
Here, you'll know where this story is taking place, which are the main regions and who the protagonists are. Don't expect any big scenes in this chapter, because which sane writer puts drama into the first one? We will meet the Pridelands and it's king, Mufasa, and the survivors of an ecological disaster. Buckle up! It's gonna be fun.
On the Southwest of the great eastern continent is a fairly large peninsula. Most of the land is a dry desert, because a recent natural disaster occured - a medium-sized asteroid hit the land nearby and devastated nearby islands and forests. Occasions like this are very rare, but they have dire consequences. In this case, an ecosystem of prehistoric dinosaurs suffered the greatest punishment - hundreds were killed by the toxic gasses and fires. Alas, a few herds of herbivores and a certain population of carnivores have survived, but are scratching a living off sand - there is no water for miles, for most of it was obliterated during the impact. Some lake beds, on the other hand, have water trapped under the soil, and once it is digged out, the population can supply itself well. The only part of the prehistoric landscape that was not harmed by the flames of the asteroid were the herbivore nesting grounds, which were still fertile. They were located further to the north of the destroyed land, and offered the dinosaurs food, water, a breeding ground and refuge. The hard part of this was just arriving there. There was absolutely no food, but still, water is much more necessary than food and provides energy. As they say: 'You can survive three weeks without food, but only 3 days without water.'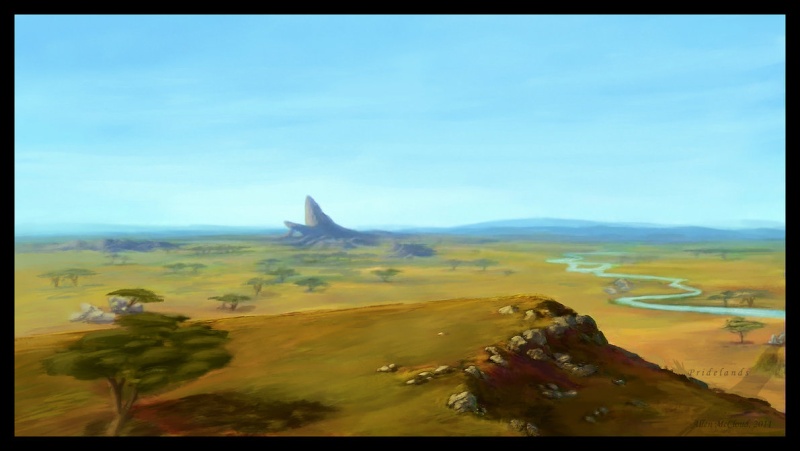 However, there was one region that was absolutely fertile, vivid and uneffected by the impact. It was called the Pridelands. Located west from the destroyed dinosaur land and the nesting grounds, it is a landscape identical to that of an african savanna - the same climate(a dry and wet season), the same plantlife(baobab, elephant grass, umbrella thorn acacias etc.), the same animals(elephants, giraffes, zebra, lions, rhinoceros's etc). Animals also migrate here, to milder regions during the drought, and back again, during the wet season. However, there is a special landmark here. A giant rock formation, that, to the local animals, is known as Pride Rock. Pride Rock is around as tall as an average building in the New York street. It consists of a large, sharp peak that grows upward, like a mountain, and a cliff, that points forward, like a jumping plank on a swimming pool, and is balanced by a collumn in the base. There is a small cave in the place where the cliff meets the peak, and it is the home of a lion pride. The lions of this land, known as the Pridelanders, use Pride Rock as a Kopje and a shelter from hyenas and foul weather. The leader of the pride was called a king, and he and his mate were the lead hunters and the lead protectors of the Pridelands. Adding to that, the king had many allies: a majordomo and a shaman. The majordomo was always a bird, in most cases, a red-billed hornbill, who's duty was to keep a look out through the land and report of new events that occured, as well as intruders that might attack the pride. The shaman was introduced quite recently, and is a mandrill. His duty was to read omens and communicate with the Great Kings of the Past. Also, the shaman took great part in ceremonies that were performed for the marriage of royal couples or the birth of the king's heir, giving them a blessing to stay together for life. The current king was a good ruler from the longest lasting dynasty in the Pridelands, one that has yielded 6 excellent rulers, that kept the territory of the Pridelands in a natural balance and safe from intruders, and our king was the seventh. Just so you'd know, he will have quite a lot of attention in our adventure. His name - Mufasa, elder son of Ahadi. His mate is called Sarabi, and his son Simba.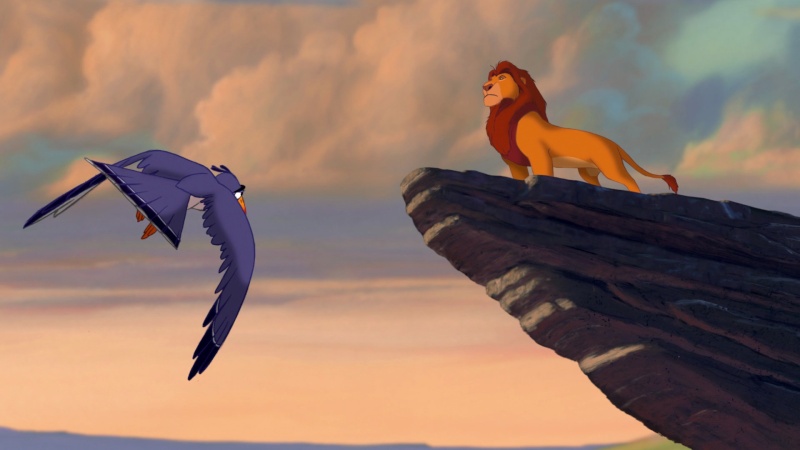 Mufasa had the true face of a Pridelander male with a pronounced jaw, golden fur, a thick, red mane and brown eyes. He was quite powerfully built, much more powerfully built than an average lion - he had broad shoulders, a large chest and powerful front legs - one would say 'What a rock!' He had a mild temper, and even when his buttons are pushed, his anger is but a blue flame, to let others know that you need to do better. He was kind, big-hearted, energetic, optimistic, honest and loyal. He had a strong sense of dignity and always looks for a moral justification to do something and is courageous, though not foolhardy - he plans his every move carefully and thoughtfully leaps in to save the day. He is a fierce fighter, but one with morals. The wisdom of his battles is: 'Being a true warrior doesn't mean knowing how to take a life, but how to spare one.' He was given the throne of the Pridelands by his father Ahadi, before the latters death, because Mufasa was the elder son, and Ahadi thought that Mufasa was much more capable of handling a kingdom than the younger son, Taka(whom we will call Scar, and you will know why). Mufasa was originally betrothed to Sarabi, a sturdy lioness who was kind and compassionate and understood Mufasa better than others. They were friends as cubs, but as they aged, mutual attraction and love formed between them.
And today was a special day for the king. Today was the day when he would pass all his wisdom and experience, everything he has learned, to his only son - his name was Simba.
Simba has a similar color of coat as Mufasa, but his eyes were lighter and more similar to those of his mother, Sarabi. He had black rims on his little ears, as well as a less prominent jaw than his father. He, like many cubs, was a fleet-footed and adventurous youngster that hated monotony and boredom in life. He was also impatient, tough-headed and reckless. Still, a word of council from his father was all it took for him to understand that things will come faster if you wait for them calmly. Today was the time of his first lesson on kingship.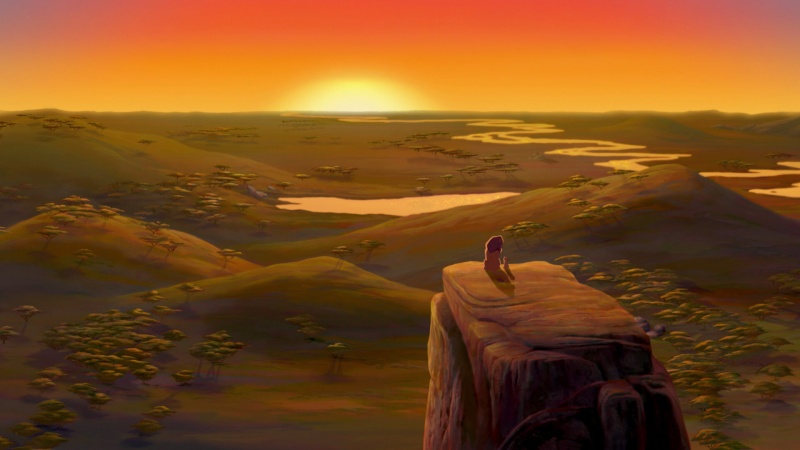 The two then climbed high, onto the summit of Pride Rock, as they watched the Sun rise over the plain. This was just the time to begin the lesson.
"Look, Simba...everything the light touches is our Kingdom." started Mufasa.
''Wow..." said Simba, looking out.
Mufasa continued, looking down at Simba: "A king's time as ruler rises and falls, like the Sun. One day Simba, the Sun will set on my time here, and will rise with you as the new king."
The cub asked: "And this will all be mine?"
"Everything." the large lion nodded.
"Everything the light touches..." said Simba, walking around and looking out. Then, seeing a dark, rocky landscape in the horizon(the Elephant Graveyard), he couldn't resist asking: "But what about that shadowy place?"
Mufasa approached him, knowing that it is hostile territory for all lions and that cubs die there: "That is beyond our borders. You must never go there, Simba." he said, all for his sons wellbeing.
Simba interrupted: "But I thought a king could do whatever he wants."
"Oh, there's more to being king than... getting your way all the time." replied Mufasa, smiling.
Simba asked: "There's more?"
Mufasa chuckled: "Simba..."
Later on, the two descended from Pride Rock, and into the savanna, where they continued their conversation. Many things did Mufasa learn from Ahadi and Uru, but many things, he learned from his own experience. And this, more than anything, he wanted to pass on to Simba, to teach him how to be a ruler of courage and dignity, calmness and consideration. Back at Pride Rock, he did tell him that being king is more than giving orders and having your way. Such a king is selfish and spoiled, and the only thing that makes him king is a crown.
"Everything you see exists together, in a delicate balance. As king, you need to understand that balance, and respect all creatures - from the crawling ant, over the leaping antelope, to the great elephant." stated Mufasa, teaching how to know how to be a fair ruler, and care for all.
Simba asked: "But dad, don't we eat the antelope?"
Mufasa smiled: "Yes, Simba, but let me explain: When we die, our bodies become the grass, and the antelopes eat the grass. And so, we are all connected in the great Circle of Life."
*
Most of what was once a fertile tropical paradise of the dinosaur land, where herds of these exotic animals roamed freely, looks like a lifeless, barren desert, as we have found out before. The asteroid impact has taken it's tole on the prehistoric peninsula and the surrounding islands. What was once like heaven, to someone who overslept the disaster, would be unrecognizable... it's hard to believe anything could live here, with no plants or water around. But something is alive! Something big - A 9 meter long, herbivorous Iguanodon.
This one has a specific backstory and will be highlighted in our travels. 25 years before the disaster, when he was an egg, an attack from a carnivore that stepped on his nest left his egg the only one intact. Soon, an egg-eating dinosaur carried it away, but alas, dropped it into a river, that carried it away. Then, a pterosaur(flying reptile, not a dinosaur) carried it far from the mainland. There, it was dropped on a small, tropical island only inhabited by small lemur-like primates. They raised him to adulthood, and together. they all escaped the island by leaping into the ocean and swimming to the mainland when the asteroid hit. His name was Aladar. He had gray skin with a tint of green on top, long legs, a sturdy tail and spikes going down his back. With him were four lemurs: Plio, his adoptive mother, who was mainly white witha fringe of brown on top of her head; Zini, who has a fuzzy head and coppery gold fur; Suri, Plio's daughter, who was white, as well brown on the back; and finally, old Yar, Plio's father, who has a shaggy white coat with brown fringes on his arms.
As Aladar was taking a look around, he heard sniffling as he turns his head and sees that it was Suri - the poor little thing was frightened from last night and from the never-ending desert. As she sniffles, Yar patted her on the back trying to comfort her: "Now, now Suri, there's nothing to be afraid o-"
Zini interrupted, seeing something moving further away, slipping behind a downhill: "Look!"
Aladar was also surprised: "Whoa!" After it ran away, he asked the others: "Did you see that?"
"Where did it go?" asked Plio.
"I don't know. Let's go see." replied Aladar, then curiously began to move down the hill.
"Leave it alone! Hey!" Yar shouted, because he was very unsure of what it was.
"Psst. Dad!" whispered Plio.
Yar interrupted: "It's scaring Suri."
"No it's not." Suri added.
"Everyone just be quiet." Aladar finished, foolowing the route downhill. Perhaps it was someone who could help them, or something dangerous, or maybe, nothing relevant at all - none of them were sure. There was anxiety in the air because of this, and all of them could feel it. IAn eerie silence descended on the desert, and a feeling of uncertainty grew as they headed on.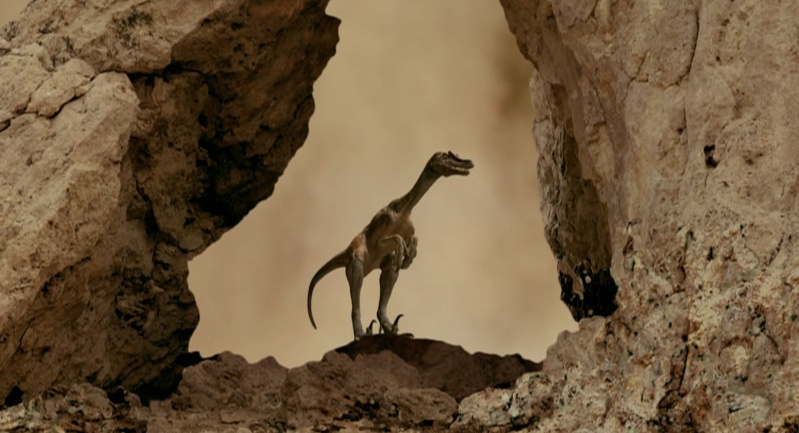 Not before long, the group saw what it really was, as they saw it grooming in the shade of a rocky outcrop - a small, 2 meter long, bird-like dinosaur with light brown skin and dark stripes, which we will refer to as Velociraptor. It's jaws were full of needle-like, serrated teeth, it's neck was long, and s-shaped, and the most peculiar feature was a pair of hook-like claws on the feet. However, these claws are not back-scratchers - they are for killing! And one more thing Aladar and the group were about to find out was - it wasn't alone. Soon, another one had arrived on the scene, and both reptiles growled lightly as they began to inch closer and closer. To the left, there were 3 more. Soon, Aladar and the group were really beginning to feel uneasy, because the sound of their growling and hissing made the lemurs shudder. Until, one jumped onto a high rock right in front of Aladar, surprising him. Eyeing him, it then hissed right into his face!
Plio and Suri screamed in fright! Now, Aladar was aware that these little animals were not friendly by any means! They were hissing and screeching at them, cornering them, as if they were about to hunt them down. And as they closed in, they forced Aladar to a rocky outcrop, and then, one of them pounced! Luckily, Aladar moved his foot out of the way and the predator hit it's head into the rock. Then, he slipped from the rock he was on and started running from the raptors. He galloped down the hill and went to flat ground, but the swift raptors quickly followed... and so, a chase ensued.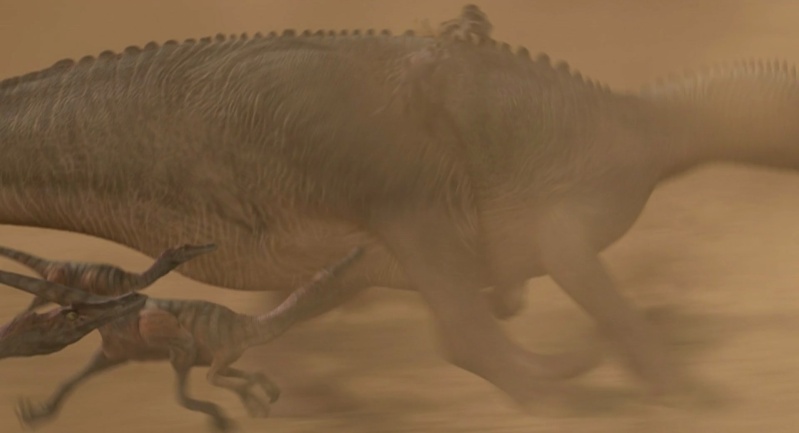 Aladar galloped as long as his legs could carry him, but the raptors were speeding toward him in hot pursuit! Quickly, they were running alongside the larger, slower herbivore, screeching as they did. One raptor leaped onto Aladar's side, latching on with his hook-like claws and then, it delivered a painful bite to the dinosaur's soft skin. Feeling a dozen needle-like teeth penetrating his skin, Aladar let out a heavy, guttural roar. This still didn't stop him. Another one leaped in frmo the other side, snapping at Yar who lost his balance and yelled, falling from the dinosaur's back. Luckily, Zini is quick enough to catch his hand before he hit the ground: "Yar, hang on!" he shouted.
"I can't reach!" replied Yar, struggling to take Zini's hand, because the sand was getting into his eyes and they were moving extremely rapidly. Adding to this, the raptors were intimidating! With one atom of strength, Zini was able to pull Yar back up and save him from the jaws of a Velociraptor who just leaped on Aladar's side again! But then, it looked ahead, and detached. Actually, all of the raptors were losing speed. As Aladar ran on, they actually stopped, because they were either tiring or sensed danger.
Noticing this, Plio said: "Aladar, they're stopping!" And so, Aladar slowed his pace, before eventually stopping. They were entering a giant cloud of dust. At first, they all thought that was a sandstorm. Still, they were going to be proven wrong again! While standing, Aladar was knocked down, as Yar, Plio, Suri and Zini fell off. It was a large male Iguanodon - that looked very much like him! The only notable differences were in color, and in the fact that this one was significantly larger and had a bony crest on his nose.
"Stay out of my way!" he shouted, walking over Aladar and the lemurs. As Aladar got up, another one spoke up: "You heard Kron, move it!" he was only a bit smaller than the first male, apparently named Kron, and looked older and more wrinkled. After looking back, Aladar turned around and saw even more Iguanodons, that looked very much like him! Not in his wildest dreams did Aladar imagine this - he had finally found his kind! He could also see some larger herbivores that walked on two legs and had unusually long crests on their heads. They were Parasaurolophus, the famous duck-billed dinosaurs. After seeing one pass by him, Aladar could hear coos and squeaking under his feet. Looking down, he saw those were young Iguanodons. To get a better look at them, he lowered his head between his front legs, but when he raised it, it bumped into another adult Iguanodon, and a female for that matter.
"Watch it!" she said and continued walking past him. Aladar was staring at her for a while, until he heard a loud grunt, that made him turn forward immediately. It came from a stocky, heavily built herbivore that had a weird bony frill on his head and a large lump of bone on his snout. It was called Pachyrhinosaurus(thick-nosed lizard). With no warning, it rammed Aladar out of it's way, knocking him out of his way and to the ground again!
"Zini, get your head down!" Yar shouted and grabbed Zini's head, lowering it, because small, red dinosaurs called Microceratops were running over, and they could kick. After this, the group heard a loud, intense wail coming from ahead. It was from a giant animal indeed. A colossal dinosaur with a long neck, called Brachiosaurus soon began to walk over the group, who remained petrified by the sheer size of the animal! As it walked over, another elderly dinosaur was walking by, It looked like Pachyrhinosaurus, only more obese and with a stub of a horn on it's nose. We will call it Styracosaurus. Despite the fact these dinosaurs have long horns on their snouts rather than stubs, this individual lost it's horn.
"Walking backwards, huh? Well let me know if that gets you any faster! Keep those little legs moving, Url, or you'll get left behind!" she said sarcastically. A small, armored dinosaur waddled behind, panting. This was apparently Url. Then, our group, looking forth at this dinosaur herd, sighed in awe. Such a sight was truly amazing.
"Look at all the Aladars." said Suri.
Grumpy Yar interrupted: "If you're even thinking... of joining the-" he too was interrupted by Zini grabbing him fearfully, and with good reason! The ever-persistent Velociraptors were just behind them, and ready to attack again.
"...Hang on, hang on!" said Aladar, galloping downhill to catch up with the herd, knowing that it is much smarter going with a large herd like this, than running from a pack of raptors on your own. Seeing that another chase is not worth risking, the raptors stop, aborting their hunt. Looking down at the herd, they stand and wait. One hisses out into the air in anger.
After this long, hot walk, the herd settled near a hill, which provided shade from the usually relentless heat and was their sleeping place for the night to come. Aladar had no trouble catching up with them, but now, the question was - who are they? Where did they come from? Looking around, he saw three viewy individuals high on the hill. They were the leading trio, the two large males and the female he bumped with.
"Kron?" asked the older of the two, while Kron turned his head to listen to him. "There is a more protected spot down the-"
Kron interrupted him: "We will rest here for the night... Go ahead, Bruton."
Hearing Kron, Bruton snorted, then turned toward the herd and let out two high-pitched, whale-like calls, to let the herd know that they can stop here and that it is time to rest.
At the back of the herd were the Brachiosaurus, the old, hornless Styracosaurus and the little Euoplocephalus.
"Oh, Eema! I wish we were at your nesting grounds now. All this pushing and shoving about - just for a place to sleep! I'm not used to this kind of behavior." said the Brachiosaurus.
Eema, the Styracosaurus replied: "Baylene, you've got big feet, why don't you just give them a kick?" then, as a small pachycephalosaur called Stygimoloch got in the way, she kicked it away: "Get!"
Since Baylene was immense and couldn't see the smaller dinosaurs well, she replied: "Oh, I couldn't possibly!" After this, she attempted to scurry them off by gently waving her giant foot: "Eh, shoo, shoo."
"Will you come one, Baylene?! If you want to get to the Nesting Grounds alive, then show some backbone!" shouted Eema impatiently.
Little did she know that Aladar already walked up to her from behind gretting her: "Hey there."
Startled, Eema shouted and galloped in a circle, until she spotted the handsome young Iguanodon, who apollogized: "Oops, sorry. I overheard you talking and..." he stopped, when he saw Url standing in front of him, looking at him, playing with a bone and spinning around in circles, like a playful puppy.
Surprised, Eema smiled upon this: "Well my, my. Look at Url. He normally doesn't warm up to strangers so fast."
Then, Baylene moved her head to the lemurs, who were sitting on Aladar's back, sniffed, and then snorted loudly, nearly blowing them off. Thinking that it was a stain, she said: "What an unfortunate blemish."
"Good mud bath would clean those right away." added Eema.
As he was a little tired and groggy, Yar was rather surprised when he understood what it was about, so he asked: "Excuse me?!"
Hearing this, Eema grunted in absolute surprise, not knowing the least that it was a living thing, a lemur for that matter!
"He's my grandfather... couple of times removed." said Aladar.
"Better say a couple of species removed." added Zini with a laugh.
After giggling, Aladar stepped up and introduced himself: "I'm Aladar. This is my family. We're... all that's left."
"Oh dear, I am so sorry..." said Baylene compassionately, lowering her head in sadness, for the Brachiosaurus's size and grandeur was it's worst enemy in the asteroid impact. Luckily, Baylene was the only one that survived.
Eema added: "Baylene's the last of her kind. Strange thing, finding stragglers like her all along the way..."
"I heard you say something about... nesting grounds." said Plio, curious to know what that place is and where it is.
Then, a smile appeared on Eema's face: "It is the most beautiful place there is, child. It's where the herds go to have their babies."
Little Suri asked: "Will we find anyone that looks... like us there?"
Eema giggled: "The last few days, I've seen them in all shapes and sizes." But then, she turned forward and sighed: "Ah, who knows what we'll find? The hard job now is just getting there!"
"And we are driven on unmercifully." said old Baylene.
Puzzled, Aladar asked: "By who?"
"Kron, the herd's head Honcho." replied Eema.
"And for an elderly lady like myself, it's very hard to keep up." added Baylene.
Thinking positively and that it is no big deal, Aladar said: "Then tell him. What's the worst he can do?"
But then, Aladar saw them - the leader of the herd, Kron, his older sidekick, and the attractive female he bumped into before. They were walking their way. Bruton snorted at Url to move out of the way and they eventually pass the group, as Kron bumped into Aladar rather arrogantly. Finding this impolite, Aladar said: "Hey!... What's his problem?"
"That's him, honey - Kron..." said Eema.
Now, Aladar was certainly going to approach more considerately, knowing that it is him. He ran over to them, because he wanted to find a way to help the elders keep up. To him, the best way seemed to be talking to the leader himself.
"Eh, excuse me! Kron? Got a second?" he asked, as he ran over.
"Get lost, kid!" Bruton answered back, in an impudent manor, as the young male skidded to a stop.
Kron chuckled: "Relax, Bruton." Then, he saw that it was he who the young male was looking for. He approached him dominantly, staring him down. "Who are you?" he asked.
The blue male replied: "Uh, Aladar."
"Why weren't you up hill with the-" he went to say, until he spotted four lemurs on his back, all waving and smiling at him nervously. "...eh, youngbloods?" he snorted at them.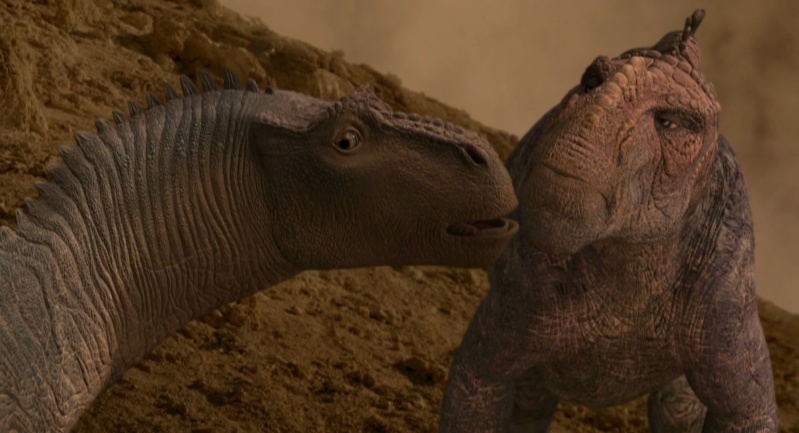 "Well, I was back here, talking to these guys." continued Aladar, refering to Eema and Baylene: "Well, they're having a hard time keeping up, so, maybe you could, slow it down a bit, hm?"
Stopping for a moment, Kron answered: "Let the weak have the pace? Now there's an idea..." but then, he continued, showing his inconsiderate manors: "Better let me do the thinking from now on, Aladar." he walked off.
Offended, Aladar said loudly: "Hey, they need help back here!"
"Watch yourself, boy!" he answered back and then turned forward, snorting arrogantly.
The female, following Kron, looked at Aladar with a smile on her face: "Don't worry. That's how my brother always treats newcomers... No matter how charming they are." she winked and walked off.
"You sure know how to catch a girls eye there, stud." Zini said, winking at Aladar.
Eema walked forth: "I wouldn't be catching nobody's eye if I were you. Especially Neera's. You just keep your head down, and you mind what Kron tells you." she said, worrying a little about Aladar, only wanting to keep him safe.
"Since when do we take orders from the likes of him?" asked Yar.
"Kron's swatted flies bigger than you, pops!" added Eema with a chuckle.
Yar continued his rant: "I can hold that monster's brain in the palm of my-"
Aladar interrupted: "No Yar, she's right. Better keep our heads down with this bunch, if we don't want them to be bitten off by....those things." he says as he points to the Velociraptors, who were squabbling nearby.
"Well you just consider yourself lucky. That's all that's following us." Eema concluded.
They never stopped following the herd, in fact. They will persistently follow it for as long as it takes to get some food in their mouth. And this was a good tactic, because some herbivores may very likely die of thirst and malnutrition, offering the raptors a quick meal. They knew better than to attack an entire group all on their own.
Last edited by Mufasa on Mon Jun 03, 2013 12:44 pm; edited 9 times in total
Administrator




Posts

: 772


Join date

: 2012-01-21


Age

: 23


Location

: Banja Luka, Bosnia & Herzegovina



Chapter II - Uninvited guests
Now, things are really going to get interesting! In the Pridelands, when everyone settles down, some party poopers from outer space will come in. What they are, you'll see. We'll also meet Scar, who I mentioned in Chapter I, as well as Simba's mother and some of his friends. As with Aladar, we'll know more in the next chapter.
Soon, as Simba and Mufasa stopped in the middle of the savanna, a bird had arrived. Remember when we mentioned that kings had majordomos who take care of things in the Pridelands territory? This is Mufasa's majordomo - a red-billed hornbill, a loyal friend of Mufasa flew over on top a rock near the two lions. He had dull blue feathers, a long, red beak and big eyes. His name was Zazu, and he was like a messenger to Mufasa, notifying him of the state of the kingdom, as well as danger in the further territory.
"Good morning, sire!" he greeted the royal duo.
"Good morning, Zazu." replied Mufasa.
Zazu said: "Checking in... with the morning report!"
"Fire away!" approved Mufasa.
Zazu started: "Well, the buzz from the bees is that the leopards are in a bit of a spot..."
Mufasa: "Oh, really?"
Zazu's speech continued through without stop. Simba's and Mufasa's conversation is the focus.
Simba, uninterested in Zazu, sees a grasshopper jumping out of the grass. Smirking, the curious cub jumped after it to satisfy his desire to stay active and play. But the grasshopper persistenly jumped out his way.
Zazu continued, not noticing Mufasa's lack of enthusiasm: "...And the baboons are going ape over this. Of course, the giraffes are acting like they're above it all..."
Mufasa, noticing Simba moving around, asked: "What are you doing, son?"
After a jump onto a rock, Simba, who disappointedly looked into his empty paws, replied: "Pouncing."
With a grin, Mufasa whispered: "Let an old pro show you how it's done..." His idea was to practice on Zazu himself, though the hornbill had no clue of what's going to happen.
Zazu continued babbling like an empty mill: "...The tick birds are pecking on the elephants. I told the elephants to forget it, but they can't..."
Mufasa interrupted him: "Zazu, would you turn around?"
Zazu nodded: "Yes, sire." But alas, he immediately continued as he turned around: "The cheetahs are hard up, but I always say..."
"Stay low to the ground." Mufasa whispered to his son, while lowering him beneath the grass.
Zazu: "...cheetahs never prosper..."
"Okay, stay low to the ground, right, yeah..." whispered Simba.
Zazu, realizing that something is amiss, turned around confusedly, asking: "What going on?"
"A pouncing lesson." replied Mufasa.
Zazu smiled at first: "Oh very good. Pouncing." But after this, he soon realized what the going was about! Thinking that it was insulting to him, he spoke frightfully: "Pouncing?! Oh no, sire, you can't be serious, oh..."
Nevertheless, Mufasa motions for Zazu to turn back around, for he is the king.
Zazu, relenting, turned back forward: "Oh, this is so humiliating..."
Mufasa still whispered: "Try not to make a sound."
Zazu frightfully asked: "What are you telling him, Mufasa?"
Looking around uneasily, he saw that Simba and Mufasa seemed to have disappeared. The two slipped into the grass, to catch the hornbill off-guard, where he can't see them. Nervously, he asked: "Mufasa?... Simba?..."
Then, the lion cub jumped out in full surprise, pouncing on Zazu from behind and knocking him down! Seeing this, Mufasa laughed with delight, for the yelp Zazu let out was hilarious, as the pounce itself!
As Simba returned proudly to Mufasa, the large lion complimented: "That's very good!" he laughed on.
Soon, a small gopher emerged from the earth, bumping Zazu in the head. He was Zazu's messenger. "Zazu!" he said.
"Yes?" the hornbill asked, surprised.
The gopher continued: "Sir - news from the underground!" This were news of hyenas infiltrating Pridelander territory - bad news for the pride!
Back nearby, Mufasa told Simba: "Now, this time-"
Alas, he was interrupted by a rather surprised, frightened Zazu, who said: "Sire! Hyenas - in the Pridelands!"
Mufasa's mood switched in a second as he heard this - from a calm father to a protective leader! As a pride leader, he had to act at once, to settle the situation that was going on. But he had to do it alone, for it was much too dangerous for his son, of whom he was very protective(though not extremely).
"Zazu, take Simba home!" he said as he began to leave for the area where the hyenas have been reported.
Already feeling enthusiasm, Simba asked: "Oh, dad, can I come?"
Mufasa shook his head: "No, son." and so, he ran off to arrive on the scene.
Disappointed, Simba lowered his head and scowled his eyebrows. He, being a young cub, hated monotony, boredom and dullness and always craved to see some action: "Aw, I never get to go anywhere!..."
Zazu, gliding nearby, tried to comfort the cub: "Oh, young master, one day you will be king. And then, you can chase those slobbering, mangy, stupid poachers from dawn until dusk!"
The two then headed back to Pride Rock, to take a break, and with luck, eat. So far, Simba did not like this, because he is still very young and has a burning desire for adventure that was innate to most Pridelander cubs. A desire to play is something that made them stand out among all other prides. Because playing was the motto of the young Pridelanders.
*
The day had continued on as normal in the land known as the Pridelands. A stretch of uncharted savannah, one of the richest of all of the Southwest, after the disaster of the prehistoric peninsula. Indeed, peace & prosperity reigned here... But something was happening. Something that was not normal here. It began near one of the local watering holes, where the scene was taking place. A pair of leopards were taking a drink after a successful hunt. Near the other part of the shore was a pair of large elephants. But suddenly, something began to disturb the peace. The animals began to sense something nearby and it felt as if it was threatening, or something alien to them. Such a feeling made the animals uneasy and caused them to retreat from the watering hole. Nearby, the forests bushes began to rustle & move. Something was definitely lurking nearby. But from what it sounded, there was more than one. Even more strange, the sounds each step was making.... sounded like metal, like hydraulics moving. Nothing that would be heard from around here. But soon enough, the riddle had been solved. The reason why the animals were now feeling uneasy - The Pridelands had strange visitors!
Out of the forest, the most unexpected being emerged from the bushes - a drone! A robotic being of humanoid origins. But it was not alone. Two more drones appeared from the forest, walking upon the edge of the lake, scouting the terrain. Scanning the area of all it's knowledge and resources. No one could ever suspect however, that such drones were in fact not from this very world - these were extraterrestrials!
They continued to scower the area around them. The sound of their hydraulically-powered mechanical limbs could be heard from a distance by anyone or anything who stumbled. Yet they posed no threat.....Yet. They were bizarre looking machines. Each one seven feet tall with large clawed limbs, with the most alien looking technology. Clearly they were nothing like this place or this world, had ever seen.
"
->Beginning field examination. No threatening carbon-based life forms detected.<-
" They all said and thus continued forth, turning over every log and stump they found near them and scanning the environment around them. They soon began walking towards the edge of the nearby forest to continue their search and their scanning. Until, suddenly, the trio was approached by something coming from the bushes! As the drones turned to see the bushes rustling, they soon saw a pack of ravenous wild dogs approaching them! Mistaking them as prey! They approaching with snarling jaws! Barking, growling at them with the intentions to have them for lunch! But one such drone made it's approach to scan them.
"
->Carbon-based life form detected. Scanning...<-
" The drone said, with it's optic lenses flashing a bright green light as it began to scan the animals. But suddenly, the optic lenses flashed a bright red! "
->SCAN COMPLETE. WARNING- THREAT LEVEL- 5. SOLUTION- EXTERMINATE ALL THREATS.<-
" The drone then said with it's spine chilling robotic voice, as it's single hand suddenly turned into a fully armed gun! The gun then immediately fired a single shot of pure, concentrated energy and with it, one of the wild dogs was dropped instantly, causing the pack to immediately abandon the hunt and retreat from such an alien force. After dealing with them, the three drones approached the lifeless body of the wild dog the single drone shot down, as it's hands reshapes into it's former hand. The drones stood in a circle around the body, and thus they began to examine the body, as well as perform more scans. Examining it's anatomy with every inch and every detail. All down to the tiniest speck of hair and DNA. It was as if they were gathering information. As they were indeed out from this world and studying everything around them. They continued to examine the body with their alien technology and scanning ever detail they could.
*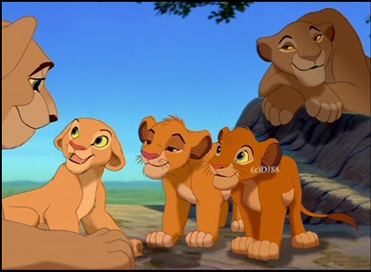 Meanwhile, near Pride Rock, Simba was lying down on a small rock, under an acacia tree. Still in a bad mood for being denied to go on an expedition with his father.
'I can't wait to be king, so I can go on my own search parties!'
he thought and huffed. But then, he was spooked by someone pouncing on him, causing him to fall off his rock perch. Of course, Simba was not the only cub here. There were 6 more - 3 females and 3 males for the matter. One of them was Tojo.
Physically Tojo shared likeness, and much of it, with Simba. However, there were subtle differences between the two. Tojo's fur is a darker gold as is his underbelly, which extends to his muzzle instead of stopping at his chest. He has black ear rims opposed to Simba's brown and light eyerims to Simba's chestnut. His most noticeable difference is the larger, scruffier tuft of fur on his head and his bright blue eyes. Their personalities however, were two different stories. Tojo is a somewhat pessimistic and moody cub, usually lamenting over his tendency to be clumsy and get hurt because of it. While in a good mood though, he is friendly, goofy, loyal and willing to help. Tojo also has an unusual bond with birds. When he was very young, he wandered off into a bird's nest and looked at the chicks, attempting to play with them. Even though the mothe bird drove him off, confusing him for an egg thief, the chicks imprinted on him as a playmate. And since then, they would occasionaly fly near him and play with him.
"Tojo? What are you doing here?" asked Simba, getting up from the ground in utter surprise.
Tojo then jumped up on Simba's rock: "Guess what? Everybody in the Pridelands is talking about some weird thing walking around the watering hole! It's nuts!" as he was walking around the watering hole, he heard of rumors spreading around already.
Simba raised his eyebrow: "What? What is it?"
Tojo interrupted: "Nobody knows. But let's go somewhere and play, huh?"
"Yeah, let's go." agreed Simba, in a Pridelander cub's manor. Then, they both headed to Pride Rock, to find some more friends who could go with them. The two youngsters quickly went to the closest and best spot to find their friends, which was Pride Rock itself. Right at the very foothill, they could already see someone: Simba's mother, Sarabi, a heavily built, dark beige lioness who was resting atop a rock, Sarafina, a younger, tawny lioness bathing her daughter, Nala. Nala looked much like her mother, with the same tawny fur, colorless paws, colored thighs and forelegs, and green eyes. She is the princess of Pride Rock, meaning she was betrothed to Simba. She was sassy, spunky, and just as curious, mischievous and ready to get in trouble as Simba was. Even though they were betrothed, Simba and Nala never showed any signs of affection towards each other(yet), and she was also, with Tojo, his closest friend.
"Hay Nala." greeted Simba.
"Well, hello, Simba, Tojo." smiled Sarafina.
Nala, smiling, as she was cleaned, replied: "Hi guys."
Tojo: "Would you like to come with us someplace?"
Nala(Through clenched teeth): "Tojo! I'm kind of in the middle of a bath..."
Soon, Sarabi awoke: "And it's time for yours." she said to her messy son, who's eyes immediately popped out at the mentioning of bathing. He absolutely hated it! As he attempted to get out of the way, Sarabi still grabbed him by the skin on the back of his neck, and began to bathe him.
Simba struggled: "Mom!" then, after another big lick: "Mom... you're messing up my mane!" Sarabi only looked down on him and smiled silly.
"OK, OK, I'm clean, can we go now?!" said Simba, jumping out his mother's paws and fixing the small tuft of fur on his head.
Nala asks: "So where are we going?"
Simba: "Well...I don't know yet. We can make our minds on that when we go."
"Oh, and will you go far from the rock?" asked Sarabi, knowing Simba's mischievous nature.
Simba turned around: "No, we won't. We'll stick around."
Soon, after she was bathed completely, she turned to her mother: "Eh, mom? Can I go with Simba and Tojo?"
Indecisive, Sarafina looked at Sarabi: "Hmm, what do you think, Sarabi?"
"Well..." she thought of an answer.
Then cubs then ask in unision: "Pleeeeeeeeease?"
"It's alright with me." the lioness stated.
Tojo: "Yes!"
Simba: "Yeah!"
Nala: "Alright!"
As the three ran off to find a place to play, Sarafina then giggled: "It's strange how playful they are."
"Well, were we not playful as cubs, Sara?" added Sarabi.
"I know, I didn't say we weren't, but we were never this full and free-going. We usually stuck to the rules and all, you know?" replied Sarafina.
Sarabi said: "Oh, yes. I remember."
*
Around the same spot where the drones were, around 5 yards away, the figure of a lion can be seen standing atop a small rock. He looked at the strange machines with a stern expression and a raised eyebrow. But this is not Mufasa - this was his brother whom he have mentioned in the very first chapter - Taka, or Scar. He is a sleak, elegant lion with brown fur, who was, in comparison to Mufasa, greatly lacking in physical prowess. His mane is black, slick and combed back, while his eyes were green - both traits from his father, Ahadi. And his namesake, a scar, ran over his left eye. How did he get this? You will see here:
One day, Ahadi broke his promise to take the two hunting when chaos emerged at a waterhole. Mufasa was understanding and tolerated it, but Taka did not, and he plotted to get back at them both. He suggested they go hunting together while Ahadi takes care of the waterhole problem. Mufasa agreed, unknowingly walking into a trap set up by Taka himself. Later, Mufasa walked into Taka's trap, running for his life away from a water-hogging buffalo named Boma. Mufasa got away with help from Rafiki, but Taka was scarred by Boma's horn, which ultimately lead to him changing his name to Scar.
Scar was intelligent, cunning, yet extremely selfish and unable to accept authority. Also, he could become very jealous, very easily - the very thoughts about Simba being the next king were sending his jealousy meter to the very peak! He was a psychopathic individual who is mainly concerned with gaining power and will kill anyone he sees as competition. Despite his ruthless nature, he's a somewhat cowardly individual, more likely to run away from violence than confront it.
For now, he stood on his perch, eyeing the strange drones.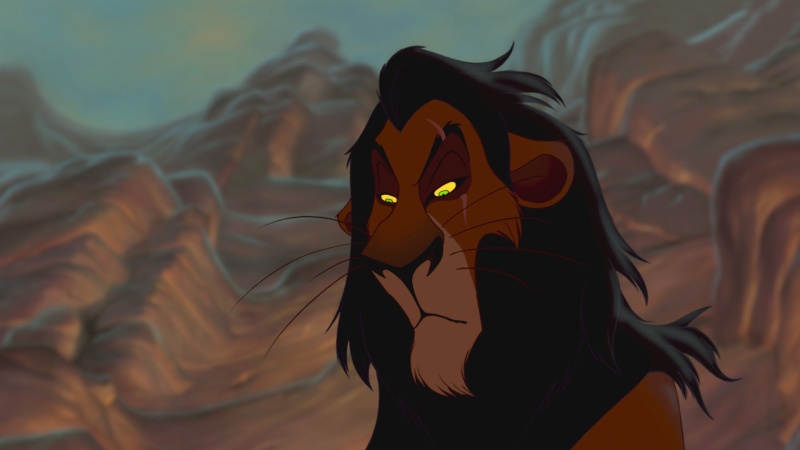 Unaware of watchful eyes gazing upon them, the drones continued to examine and study the body they have just obtained after dealing with the pack of wild dogs. But after examining the body, al three drones looked up at one another with flashing optic lens, storing the data they gave examined in their data files. "
->Scanning of carbon-based lifeform complete. Replicating data.. Storing in data files.<-
" one soon said before all three began to walk off once more further into the territory. "
->Scanning for carbon based life-forms. Locating...<-
"
The trio began to move from the watering hole. They went into the small jungle nearby & beyond that, lied that savannah. Their presence was mysterious... unsettling. They didn't look friendly nor sounded friendly at that. But alas, no one could tell. Their origin was unknown, where they came from was unknown, everything about them... Was a complete mystery. They walked through the bushes & the jungle before walking into the savannah. They paused for a moment, letting themselves get use to the new environment they had now just entered. They scanned the area once more & then, they walked forth, all in military unision.
*
Although that whispers of the mechanical drones circled every corner of the Pridelands with little sing of silencing, Simba, Nala and Tojo were much more interested in satisfying their burning desire to play. Of course, they'd have to see if any other cubs were interested. Alas, not today. They were either sleeping or too busy with each other. Still, it didn't stop the three youngsters from going out. They gathered near a rocky outcrop, which was their favorite playing spot. Now, only they had it for themselves.
After thinking how to start a game of tag with Tojo and Nala, Simba finally came up with a good idea. He walked to Nala and said: "Come here, it's secret!"
As she moved her ear to Simba, the male cub then poked her, saying: "Tag! You're it!" Then, he ran off.
Angered, Nala said: "Hay! Not fair!" But she laughed and began chasing Simba and Tojo. The three cubs played along, laughing happily. Soon, Nala tagged Simba again, jumping onto him and pinning him to the ground.
"Pin! You're it!" she said to him, before she ran off.
Tojo snickered: "Ha ha, got pinned by a girl!"
"Hay!" shouted Simba, running after them to catch up.
They ran along playfully, until they reached a river, and an intriguing site - three, ridiculously looking things! They were scanning a watering hole! Never before had they seen anything that looked like this.
Nala, upon seeing them, petrified herself. As Simba and Tojo stopped, they also felt the same confusion.
"What are those things?" whispered Nala.
Simba then stated: "Get down. They might see us."
Tojo: "I've never seen animals like this before..."
Simba: "What if they are the things everybody's been talking about all day?"
Tojo: "Dunno. Let's see."
The mysterious trio of drones had finally arrived nearly ten yards away from the next watering hole. There, they began to scan the area as they witnessed several more animals near the water. Including zebras, elephants, leopards & even some of the lions from pride rock. But their scanners and indicators had detected strange movement. Not on the land....But in the water. Seeing this, they began their approach, cautiously. Though they were unaware of what exactly was in there, their scanners could definitely indicate something was lurking within the muddy depths. As the heat signatures could show. But incase it was something that presented a threat to them, they armed themselves! Each of their hands soon transformed into a single blaster and thus, they were armed to defend themselves if necessary. From there, they approached the water a little more. Until suddenly, one drone stopped and paused! Its robotic head slowly turned to the tall grass surrounding the watering hole & the general area, as if it had suddenly picked up movement!
Nala spotted the crocodile in the water as well - a pair of eyes, with narrow pupils, and a pair of nostrills! Nala knew right off that this was a reptile, likely a crocodile. She whispered:
"Wait, look at that."
Tojo: "Whoa! Is that a crocodile?"
Nala: "I think so."
Simba: "Both of you just stay quiet!"
The crocodile, on the other hand, was still as a rock, waiting for one of the intruders to come close enough for attack. Two of the three drones had continued their slow & cautious approach to the water. Their sensors and scanners had detected a heat signature in the water. They could see a presence, something lurking in the water before them. They stood still for a moment, letting whatever they were picking up in their sensors do something. If the signature reacted violently, they would attack.
However, one drone in particular had stood right where it was before, away from the water. It's flashing red lens stared on with an icy cold stare into the tall grass near the watering hole. Much like the others, it to suddenly detected something. It's scanners and sensors had suddenly picked up something nearby. As it looked on, it could soon see the heat signature of the only thing that could ever give it off - carbon-based life forms. In this case, it was staring right at the cubs!
"
->SCAN COMPLETE. HEAT SIGNATURE RECOGNIZED. CARBON BASE LIFEFORMS DETECTED. ALERT - MULTIPLE CONTACTS.<-
" The drone said, which suddenly alerted the other drones, as the other two suddenly turned to the very same direction as the other drone on land, looking on with the very same spine chilling red eyes!
As the cubs laid in the grass observing the extraterrestrial drones and the crocodile, expecting something big and hoping to stay out of sight. But once Nala saw that one of them was further away from the other two and that its eyes were pointing at them, she began to feel uneasy. She feared that the strange machine would walk over and examine them, or the worst - kill them!
"Carbon based life forms? What's that?!" whispered Tojo.
Nala whispered quietly: "It found us! I think we should get out of here."
"Shh... keep it down, we're don't know for sure." whispered Simba, stopping them.
The crocodile mistook the words of the drones as a challenge, thinking that it was seen. In a split second, the crocodile launched itself out of the water and clamped down on a drone's arm, beginning to twist it in a 'death-roll', or a crocodile killing move. Soon enough, it ripped off the arm and threw it at the drone, before slipping into the water, just in time to avoid the others. This sudden action was all more then enough for the drones to respond immediately! Even for the attacked drone, who was no short with one lost arm, yet far from defenseless. "
->ALERT! HOSTILE ACTIVITY DETECTED! EXTERMINATE THREAT!<-
" The drone said to the others. As they all began to react the very same way! Unfortunately for the attacking crocodile, it was not going to get very far. The drones had the reptile marked on their scanners! There was nowhere the reptile could hide now! Their arms soon morphed into their guns once more and thus, they began to fire directly into the water and precisely where the target was! For the moment, their attention had left the cubs for the response to this sudden threat! Several shots of pure energy were made into the water & each one being fired right on target!
Tojo was soon surprised seeing the crocodile leap out of the water and attack one of the machines! Such strength and ferocity! Now, Tojo knew exactly why the lionesses warned them to stay away! His thrill was high, and he said: "Wow! Look at that!"
Simba interrupted with a suggestion: "OK, now let's get out of here while we can and tell the pride."
Soon, they fled from the grass and toward Pride Rock, hoping that they will be unseen. Soon, the cubs ran under a tree, hoping that now, they will be completely safe from the invaders. The tree was far enough and provided them shade. They then stopped to catch their breath.
"Did we lose them?" asked Nala, between pants.
"I think so." answered Simba. Then, he took a look around, to see if the odd things were following them. So far, their attention was fixed on the attacking crocodile and they apparently haven't noticed them, yet.
The crocodile was lucky now, for it's armored skin lightened the force of the blows, not to mention the water. Soon, it leaped out of the water once more, biting onto a drone's head, letting out a vicious, rattling hiss at the same time. However, luck was also on the drones side! The number one reason why these drones had such an advantage were their superior numbers. Just before the croc was able to sever the head of one of the units, another drone was able to place a well good shot on the crocodile, blasting the animal off of the other drone. Then, all three drones responded with one another to treat this animal as an immediate threat! The all surrounded the animal while it was vulnerable on land, where the drones had an even larger advantage with mobility. They all fired cables all at once, each one strapping the animal & trying to restrict it's movement. Around the legs, the tail, even the mouth was kept from opening! From that moment, they released a serge of electricity through each wire to the creature! To such a large animal, one cable would just make it angry. But three was a different story!
Taking the hits, the crocodile let out several agitated hisses, thrashing around in pain of the electricity. Adding the water to this, the effect was even worse. Eventually, the crocodile fainted.
"That was nuts!" said Tojo, still looking back at the fight. Then, he saw the drones constricting the crocodile with cables and shouted: "Look at that! They're shooting snakes at the crocodile!"
"What?!" asked Simba, in utter confusion.
Then, all 3 were looking at this in absolute awe.
"Ooh... they got him!" said Tojo, watching as the drones begin to approach the crocodile to examine it, but none of the cubs knew who they were or why they are here.
"I really wouldn't like to be in that crocodile's place." stated Nala.
Once the threat had passed and the crocodile was finally subdued, the drones approached the body. Though caution was in the air, in case the animal was to suddenly attack. But even so, they knew the animal would not try such a thing after a lethal attack it suffered. "-
>THREAT....NEAUTRALIZED.<-
" They all say and soon begin to move in for analysis. The drones had all completely surrounded the crocodile, as it lied before them, wounded, crippled, & unable to fight back. Then, their clawed limbs gripped the animal to the ground & in submission, preventing it from escaping and prohibiting movement. Two of them gripped the limbs, while one simply stood by the animals side. It began to raise a single arm high into the air. For a second, nothing much happened. The arm of the drone remained in the air and paused at that very position, but all that suddenly changed when that very arm had suddenly turned into a large, sharp blade - it was now obvious that the drone was attempting to scalp the reptile!
Simba saw that they were clearly going to do something with the crocodile. But when he saw the blade, he shuddered: "What? They're gonna cut it?"
Horrified, Nala let out a soft scream and hid in the grass, not daring to look at this anymore! Unfortunately, the drones could register this sound very clearly... It was so sudden, the drone with the blade-arm soon turned immediately, as did the others! The blade immediately turned back into a blaster, reacting in it's defense mechanism! With their eyes locked on a new target, they had at last seen the cubs hiding in the grass! "
->ALERT- NEW CONTACT.<-
"
"Oh, great! Girls..." whispered Tojo in frustration. Not it was obvious that their cover was blown and that the drones will dare approach them!
Simba stated: "Now let's get out of here!" And then, with a loud rustle, they fled into the savanna, only hoping that these unusual contraptions wouldn't follow! The sudden movement in the tall grass and the sound of the grass rustling from movement, was immediately detected by the drones. Their sensors immediatey picked up the sounds, and their heat sensors had soon detected the cubs. In their robotic eyes, they appeared in the tall grass specifically by their heat signature, appearing in shades of yellow and orange, from the heat they were giving off, while the landscape around them remained blue. So they were easy to track & to follow. "
->UNIDENTIFIED CARBON BASED LIFEFORMS DETECTED. THREAT LEVEL-UNDETERMINED. COMMENCING PURSUIT.<-
" One of the drones spoke before all three began the chase, following the band of cubs through the tall grass.
The cubs ran as quickly as they could, to avoid these eerie things, that indeed sounded scary. Then, as they ran, they stopped next to a rock. They hid behind it, hoping to be unseen. As they were catching their breath, they saw that they were far from safe. There was something above them, something massive - a bull elephant, with feet as large as the cubs themselves! What was worse, it was in musth - a period where male elephant are sensitive and extremely agressive toward anything! Soon, it let out three angry trumpets!
While Scar was resting upon a rock with pessimistic thoughts in his head, he heard what sounds like an elephant in the distance. By the sound of it, it wasn't happy.
The chase continued. Each of the drones were armed with a mounted arm-gun and were ready to fire at anything that moved or presented a threat. Though they remained hidden behind the rock, their heat signatures still gave their position to the advanced drones. They picked up their location immediately but they immediately stopped at the sight of something much bigger, possibly much more dangerous - An elephant. There was no question about it. It did indeed catch their attention! "
->CAUTION ADVISED. NEW CONTACT. THREAT LEVEL- UNDETERMINED.<-
" one of them said and thus, they kept their distance away from the massive animal.
As the cubs tried to escape the feet of the elephant, who was going after them and stomping in agression, Simba saw someone familiar on the rock - it was his uncle, Scar! Thinking that Scar could protect them from the giant herbivore, the golden cub said: "There's my uncle, Scar! Quick! Go, go, go!" the three ran off!
Scar remained on his rock as he saw the bull elephant and drones about to battle. He looks on at it seemed to interest him. Then he looked down, seeing Simba, Nala and Tojo running to him, "Oh dear, it's my nephew, Simba." he said to himself. They were clearly scaerd and by the direction from which they came, they were probably attacked by the alien drones or the elephant. "Children? What's all the fuss about?" he asked with a light chuckle, pretending to be surprised, though the knew what was wrong.
Soon, the cubs stopped at Scar's spot, and Simba explained: "Uncle Scar! They were chasing us!" he said, looking at the fight that was occuring currently.
"Who?" asked the sleak lion, pretending that he was oblivious to everything.
"Those things!" said Nala, flicking her tail to the machines.
Scar finally got a good view of the battle and recognized the drones from before. He looked once more, then back at the cubs, "Not to worry, kids. I will try to protect you if these things try to come after you." he says, knowing that if the cubs died, Mufasa would unleash hell upon him, even though it burnt his ego that he had to protect Simba, of whom, like we said, he was jealous of.
The bull elephant roared furiously as the cubs evaded him. But then, he saw something else distracted it - the drones. Immediately, the musthing male saw them as a threat, for he is so agressive that he will attack anything that comes close enough. It turned toward them, thrashing his head and ears around, letting out a threatening grumble! The drones reacted immediately! For now the elephant itself seemed to have presented itself as an immediate, building threat. They began to back away to gain ground while they armed themselves, readying to fire with their mounted guns. "
->WARNING- HOSTILE APPROACHING. THREAT LEVEL- 4. ENGAGE THREAT.<-
" The drones all said. Before finally, one of them made the first move. A single blast had been made. More of a warning shot if anything as the beam of energy struck the ground near the elephants feet. Frightened by the plasma beam that hit the ground a hair away from it's feet, the bull reared up, grunting in surprise! And once it landed back on all four, he stared the drones down in feral rage, growling! Then, he roared, charged forward and rammed a drone headfirst, knocking it down. And now, he was just about to take out it's agression on it - he stamped it with it's feet! The drone, looking on helplessly, tried to defend itself by firing another plasma beam! "
->WARNING! WARNING! UNIT IN JEOPARDY-!<-
" it went to say but alas, at that very moment, the shear weight of the bull elephant instantly crushed the drone. Smashing it into pieces. The other drone meanwhile looked on & assessed the animal with it's scanners. The drone then turned to see his destroyed comrade, scanning the destroyed drone. "
->SCANNING....HUNTER DRONE UNIT 4384- OFFLINE.<-
" it said before turning to the bull elephant once more! "
->HOSTILE DETECTED. TARGETING.<-
" it then said & with that, it began to open fire! The elephant dodged most of the plasma burst, but the last shot hit him in the right front leg, which immediately numbed, and the animal kneeled slightly, roaring in pain! Balancing himself with his other leg and his trunk, the bull waited to regain movability on the numb leg, trumpeting, so he could strike again, because a male in musth never quits.
The lone drone continued to fire at the bull elephant while backing away in the hopes a possible and necessary retreat. It tried it's best to keep it's distance away from the animal as well as from the elephant's tusks, or legs for that matter. While the other drone stood behind the side lines, merely watched from ontop of a large boulder, scanning and assessing the battle from a distance.
The noise of the guns frustrated the bull elephant, causing his already raging levels of adrenaline to rise even more. With it's agression building, he growled, as blood began to flow through his numb leg. As the drone's gun ceased fire, he charged forward and grabbed it's head with his muscular trunk, squeezing it with all strength! During it's last moment's the drone attempted to fire more plasma beams at it's aggressor while the elephants trunk continued to crush it's head! Though blind, it did not stop firing. But that action ceased when the head- the main unity of the drone itself, was crushed. All of it's functionality ceased to work and the drone dropped to the savannah floor.
The last of the three drones was more farther away, in a safe place where the elephant could not reach it. Its scanners assessed the sudden battle at hand and witnessed the two other units being destroyed. Though it could consider making it's attack, it did not do so. It merely stood on top of the large boulder it was standing upon with it's sinister eyes looking on at both the elephant, even the lions nearby. Such a strange, alien being it was. As if it was not from this world. It was certainly unlike anything the pridelands, or even the world had ever seen before. No one could truly be prepared to learn just what they were. Or just were they came from...
Having crushed the attackers, the massive animal heads to the watering hole, to mind it's own business.
At this very moment, Mufasa was returning from his patrol, which went out quite successfully. The hyenas were few and they were driven away easily. The massive lion could see his brother standing atop a rock in the savanna, as well as hear the noise of the battle. He headed over to investigate. He hurried his pace, but by the time he was near Scar and the cubs, the chaos had passed and they were all safe. Yet he had no idea what was ontop of a rock in the distance.
"Scar? What had happened? Are the cubs alright?" he asked his brother, as he headed over.
Scar replied, through his teeth: "Yes, they are safe. The answer to your first question is over there."
Mufasa looked where Scar was gazing - he could see the two wrecks lying in the grass, they were smoking. Mufasa has never seen anything like this, to him, they were absolutely foreign.
"Come with me." said the great lion, then turned to Simba, Nala and Tojo: "You three go to Pride Rock."
"Alright." said Simba, and all three soon began their trek home.
Scar jumped off his perch and decided to come along anyway, no matter how much it sparked hatred and dissatisfaction. He just wanted to move someplace.
As Mufasa approached the wreck of one drone, he looked at it very carefully, yet in utter confusion. He, as an animal, knew nothing of metal, and to him, it looked alien. Then, he looked back at his brother: "What has exactly happened here? What killed these creatures?"
"It was an elephant." said Scar, hitting the head of one of the drones out of his way, with his front claws.
In Mufasa's eyes, they were obviously intruders from a foreign land, yet unknown to the golden king. One thing came to mind though - if they have come here today, then where were they coming from? That is one thing that was worth an investigation. So, he looked at Scar and stated: "Scar, it is best that we have a patrol around the Pridelands, to see if there are more of them around. Perhaps we can find where these creatures are rallying."
"Indeed." said Scar. But then, he heard some noise - nearby, on top of a large boulder, the last of the three drones watched what was going on. It's spine-chilling eyes scanned the scene, watching the group of lions communicating with one another. Particularly Scar and Mufasa. It also scanned the remains of it's fallen allies as the two lions looked at them as well.
"->Unit 373804- Offline. Unit 283634- Offline. New carbon-based life forms detected. Scanning...<-"
it merely said.
"I think I hear the 3rd of them nearby." said Scar, remembering very well that there were three.
Mufasa turned his head at Scar's remark, and turned around fully, only to see that it was the one that he saw earlier, the drone who was standing on top of the same boulder as when he first saw it. It seemed that it was doing nothing. Yet this was no reason to lose guard. Turning to Scar, he said: "Keep a close eye on it. See that it doesn't follow us." He then continued his trek to the border of the Pridelands.
"Oh, I will." replied Scar with a chuckle.
Mufasa and Scar then literally turned every stone around the Prideland's territory, searching for a possible rallying ground for the extraterrestrial drones. And after an entire day of search, the Sun was setting.= Mufasa and Scar headed toward the border, and Mufasa wanted to share what happened during his patrol today with his brother. He started: "There were several hyenas invading the Pridelands this morning, hunting on our borders. If it were not for Zazu, they would wander deeper into our territory." then, after a pause, he continued: "I will never understand what impudence drives them here. Even with so much free territory outside the Graveyard, they dare challenge us."
When the lions were at a safe distance, the drone jumped from the large boulder, approaching it's destroyed comrades. Though they were destroyed, they still had a purpose to serve. The last surviving drone soon began to probe the remaining pieces & tech inside the destroyed remains of the two other drones. It scanned and searched for the information the two drones had kept themselves, as well as the single most important part of their functionality - their memory core. All the information the two had scanned were safely stored in their data bases. Which surprisingly were not destroyed. With a set of wires plugged into the heads of both drones, it began to download & store the information obtained by both drones & stored into the single data base of the last drone. After a few minutes, it was done & the last surviving drone left it's fallen comrades to lay lifeless on the savannah floor. "
->NEW DATA ADDED TO MEMORY & DATA FILES. TASK- COMPLETE. NEW OBJECTIVE ADDED- RETURNING TO BASE<-
" it then said, and not before long, it took off. Flying into the air with a set of rockest attached to it's back and repulsers upon it's clawed feet. From there, it began to fly off. away from the savannah, to an unknown location...
*
Hearing Mufasa mentioning several hyenas invading the Pridelands, he wondered if it were his secret friends. Oh yes, Scar was in league with them. In his younger days, his jealousy made him feel lonely, and he stumbled upon a clan hyenas by absolute accident. It was their relationship with lions that turned Scar away from his family, away from sanity. He has befriended 3 particular hyenas for quite some time now - Shenzi, the leading female, Banzai and Ed, males. But he kept this friendship a complete secret from his family.
After a moment watching, Mufasa saw that the lionesses were only about 5 meters away, taking down a Kudu, one of the biggest antelopes in the Pridelands. Sarabi could see the lions in the distance, so she roared loudly to let them know that it's them. Mufasa replied with a deeper roar and said to Scar: "Come. We have not eaten since we awoke."
Scar had also roared, before turning to Mufasa: "Yes, I believe a meal will certainly cleanse our minds from today's ordeal." added Scar, smiling.
As the two lions made their approach, Sarabi spoke: "We have seen some strange beings in the savanna while we were heading off to hunt."
"Yes. Scar has witnessed their attack today. I do not know where they are from or why they are here. We were just going onto a patrol to see if we can find their lair."
"A patrol? Again?" asked Sarabi, a little worried about her mate's restfulness. Then, she turned to Scar and asked: "Scar, tell me what has happened."
Scar sat down and began his explanation: "Well, they first came to sight this noon. They were walking in unision, searching for 'carbon-based life forms', which I do not know to explain. One killed a wild dog with some... weapon."
"Hmm..."listened Sarabi, as Scar spoke.
Then, another thing came to Mufasa's mind as Scar was speaking. He had seen that Simba, Nala and Tojo hiding behind Scar. He asked: "By the way, where are Simba, Nala and Tojo?"
Immediately, Simba stopped eating, licked his chops clean and walked over: "I'm here."
"Me too." said Nala.
"Me three!" added Tojo.
Mufasa looked at Simba: "Son, tell me - what happened today when you ran into those dangerous things that were in the savanna today?"
Simba started: "Eh... We were just playing tag and we sort of ran into them. They were farther away, next to some pool."
Nala continued: "And then they were fighting with some crocodile, and when they wanted to cut it open, I got scared and screamed. Then they saw us."
Tojo finished: "Yeah. And we bumped into that mad elephant too, then ran over to mr. Scar. The elephant kicked their butts!"
Mufasa only nodded his head to the cubs, as they spoke: "I see."
Scar nodded when he had heard the cubs speak: "They speak the truth. I stood in front to protect them if they were to follow us. Fortunately, they didn't." he says, turning back towad the direction the last one was at, "All, but one over there were defeated. It's not done anything since it saw it's comdrades killed, it only stood there." he finished.
Mufasa nodded his head, confirming Scar's statement. Then, he looked down at the carrion and smiled: "Oh. Well, what do ou say we eat some?" he stated, then grabbed the liver, wanting to share it with Scar and Simba, as well as Sarabi.
Scar looked down, smiling as he saw the liver. To him, it was the healthiest, most precious part of any kill, since it provides vitamins and minerals to keep a lion healthy. He leaned down to take a bite.
"Thanks, dad." said Simba, eating the liver, which he liked a lot, with the first bite.
Mufasa ate as well. He knows very well how tasty and how healthy liver can be, yet still, he will share it with anyone, and this time, he shared it with his closest family, for the king of the Pridelands was anything but selfish. Yet again, he saw Simba sharing his part with his friends. He only smiled proudly and ate on.
After a good meal, all of the pride were lying on the grass, on their backs, lazing off. Mufasa laid down with Sarabi and Sarafina, atop a taller rock, while Simba and Tojo were lying in the grass below. Scar leaped on a large boulder, yawned and laid down, letting the food settle in his stomach to rest for the night, knowing he has had a long day. He looked out over the darkened sky as the Sun set over in the distance. Only Nala was up, grooming herself a little. Quickly enough, she was done, and she too laid down next to the boys. They weren't sleeping yet, just whispering.
"Hey guys, guess what?" whispered Simba.
"What?" asked Tojo.
"I'm gonna be king of Pride Rock." he grinned.
"Really?" asked Nala.
"Yup. My dad showed me the whole kingdom this morning, and I'm gonna rule it all! He he." he snickered.
Scar could just barely hear their chattering, but he was too tired to pay attention to it. He continued to sleep.
"That's amazing." whispered Nala, then yawned herself and said: "I'm a little sleepy. We'll talk more in the morning. Good night."
Simba nodded his head, then laid down on his belly: "Good night."
Then, the golden cub purred and closed his eyes, finally trying to fall asleep.
Having taken a good look around to see that no one is attempting to attack the pride, Mufasa yawned, with a slight grunt at the end, and laid down to sleep and collect his energy for the new day. The king was also quite tired from an all-day patrol and from the squabbling with hyenas. He had also hoped that Simba learned a lot from today's lesson and that he will utilize it in the future, as king of the Pridelands.
The Sun was setting above the savanna, diving down, as the crimson sky darkened lightly, until, the Sun had completely set, and the sky was starry and dark blue. The pride was slumbering in the savanna, away from Pride Rock, sleeping to wait for the next day.
*
Meanwhile, back with the herd of prehistoric dinosaurs, everyone has fallen asleep. Even Aladar was sleeping, though this night, he wasn't going to sleep good. For he was tossing and turning in his sleep. Almost like having a nightmare! And indeed he was, a nightmare about the terrible disaster that has happened the night before, when the meteor crashed down in the ocean, destroying his island home.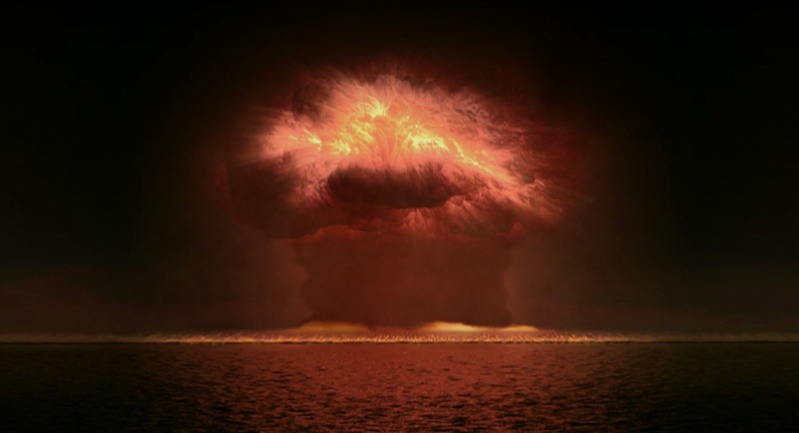 It happened last night, after the mating ceremony of the lemurs, a strange event was taking place - hundreds of small comets were falling from the sky in a meteor shower. Everyone looked up at this strange phenomenon. Suri was confused and hopped on Aladar's head, looking up to the sky, "What are they?" she asked.
"I don't know." Aladar replied as he looked up in the sky. Suri hopped off of Aladar's head and scurried up the big tree to get a better look. Plio hopped over to Yar and looked behind her to see a big flock of birds flying away, as if they sensed danger. She hears Yar sniffing the air and turns to him: "Dad?"
"Something's wrong." Yar says as Plio hopped over to Aladar. "Aladar? Where's Suri?"
"She's up in the...tree." Aladar's eyes widened as he looked up... and spotted something massive - the meteor! A massive chunk of rock, with a giant trail of fire and smoke, was about 5 miles wide, heading straight for the ocean. Upon crashing, the explosion from the impact created a mushroom cloud and as the shockwaves came, they knocked Plio and Yar down!
"Come on! Go! Go! Come on!" Plio says, helping Yar up to run away.
"Mom!" shouted Suri, who was still up in the tree.
"Suri!" Plio says, terrified.
Suri: "Mom!! Mom!!"
Aladar: "Suri?!" he says looking up in the tree's canopy.
Suri- "Moooooooom!!!"
Aladar- "Suri, where are you?!" he shouted scaredly, but as Plio picked Suri up from the tree, they both jumped on Aladar's head:
"Run Aladar! Run! Run!" she shouted.
Galloping as fast as his legs can carry him, Aladar ran with the other lemurs, he saw that Yar fell: "Yar!! Come on!!" he shouted, then picked Yar up on his back. Soon enough, they saw Zini, "Zini! Jump!" Aladar & Plio says as Zini leaped over at Aladar and Plio grabbed his hand, hanging on to him, "Hold on!" she yelled. The massive wall cloud of ash, smoke and debris was getting closer and closer to the island! Aladar continued galloping away with his family, dodging fireballs that landed near him! One of them actually flunged him off his feet, but the young Iguanodon got right back up, continuing to run. They soon reached a cliff that lead to the ocean below, just as the wall cloud reached the island! Aladar turned and gasped in utter fright, seeing the wall cloud coming closer! There was no other choice but to jump in the water below!
After the nightmare got worse, Aladar woke up with a light scream, but it wasn't loud enough to wake anyone else up. He looks around panting after having the nightmare, "I-it was only a nightmare." he said to himself, panting before lying his head back down, soon falling asleep again.
*
As the sun sets on the Pridelands and as the day drew to a quiet close, a single object could be seen flying through the near-night sky of the savannah. Its appearance, at first, seemed like a shooting star. Racing across the night sky in it's endless journey through the cosmos. But this, this was too close to earth to be any shooting star. It seemed like an asteroid, with a tail of smoke and fire following behind it's course. It did not show signs of descending to crash. This was no mere object. This was no mere rock or asteroid from the far reaches of space. For this was the very same drone that had escaped from the previous conflict that resulted in the destruction of two others. Yet, even with this unfortunate outcome, it was of no consequence. The last drone was able to obtain the data & the information that was scanned by the other droids. Now, that very same information was stored in it's memory, and now, it was time to report that information. But where? To whom?
Soaring through the near-night sky, the droid flew on towards a single destination. As if it knew exactly where to go. Luckily, nothing or no one was following it. So this single location could remain a secret, for now... The droid flew on toward a series of cliffs surrounding a single area & patch of land. It was a large spaced patch of uninhabited land that expanded for over six hundred yards. The single droid flew up high to get above the large cliffs. Seconds passed by, and not before long, it had arrived. There, standing a few more hundred yards away, in the very middle of this patch of terrain was a spaceship. An extremely large ship at that. It remained landed, on the ground and stationary, with no one, but hundreds of more droids! Clearly, this single droid was not alone in these lands. The ship itself, expanding hundreds of feet high, was rather jagged and spikey in appearance. It was colored with a dark, crimson red, it's technology, was like nothing ever seen on this planet. Indeed, everything about this ship was just as alien as the droids themselves. Yet no one could ever suspect that this single ship was, in fact, a mothership. For the Pridelands, did indeed, have visitors...
The single drone we saw earlier had one last assignment. It soon flew toward the sight, to the very main entrance of the large Mothership. It began to cross the large, shuttle bridge that led to the very doors of the mothership. Once it had finally arrived, the entrance opened before it, allowing passage. From there, the drone entered the ship, into the deepest parts of the ship's interior. There, it was clear that this was indeed something not from this world. The technology seen in such a ship was far too advanced to be anything human. It was, indeed, not from this world.
The drone continued on it's trek towards a single, designated area of the ship. It walked alone, through the long halls and corridors of the ship as it passed by other drones. Soon, it eventually reached what appeared to have been a large, open-spaced hall. With two paths connecting into a ring around what appeared to be a statue. A large, blackening iron statue of someone, or something. It was extremely large, the very sight of it had both a terrifying and breathtaking feeling. It's appearance seemed humanoid, but nothing like this world had ever seen. With a scaly appearance, a complete reptilian/dinosaur-like look to it with armor and long robes, it was indeed the statue of some sort of creature.
Before it lied a long, extending hall with large doors at the end. The moment the droid reached the end of the hall and stood before the very doors, they began to open. Now the droid faced one final obstacle. The doors had revealed a rather dark, mysterious room. Only when the droid began to walk inside did the hall began to brighten up with lights. Slowly revealing the inside of this darkening hall. There was a vast amount of space here. Technology spread across the room ranging from monitors, to probes, to weapons. At the end of this large hall, there lied a vast column and a series of stairs that appeared to be leading upward as the droid drew closer. Each step it took, there was single light that would suddenly turn on and shine down upon it, and when it finally reached the bottom of this stair like structure, it bowed down. As if it was kneeling before something, or someone...
A few seconds had past, as the echoes of the lights being turned on emanated from the massive dark hall. Then, finally, a final shine of light had appeared! The droid remained kneeled down, as the final light had soon revealed a massive throne-like structure on the very top of the stairs. It was a large, gargantuan seat, suited for what could be an Overlord. That is exactly what it was. Upon this mighty seat, there did indeed sat an individual being. Not a droid, but an actual humanoid creature. It resembled the great iron statue from outside the hall. It was large. With red scaly skin and a very dinosaur-like appearance, with a long, red, spiky tail. It's large feet and hands were clawed with razor-sharp talons. Upon his head, rested what appeared to be a frill, much like that of Emma, or any other horned dinosaur. Perhaps a manner or way to signify hierarchy and power, like a crown. The being wore immense, thick armor plating across it's body and a long purple robe. Once again to possibly signify hierarchy. This towering, menacing figure sat open the large throne with clawed hands grasping the arm's of the seat, with streams of steam spewing from the red, reptilian nostrils. For the reason for this strange appearance of droids and the mothership here in the Pridelands was now clear. For they were being led by this menacing being. An overlord and a tyrant. The last of a long line of powerful overlords that once ruled long ago, from an alien race originating deep in the far reaches of space, known as the Saurians. This menacing tyrant has come from the far reaches of the cosmos to both explore and conquer! To expand his ever-growing galactic empire.
For this.... is the Saurian overlord! This.....is Lord Dragaunus!
"I believe the scout mission was....successful?" the scaly tyrant had finally asked his mechanical minion.
"
->Yes, my lord. Objective complete - Data stored in memory. Casualties - minimal.<-
" The drone responded.
"Minimal?" Lord Dragaunus soon questioned his servant, with a scaly eye brow raised before his eyes, intrigued to hear what this meant.
"->Two of three units failed objective. Status: Offline.<-" replied the drone.
"Then this could only mean that you have been discovered, there must have been retaliation... Intriguing. But there is only one way to be certain." the tyrant stated, before turning to the screens and monitors themselves. "Display all gathered and recorded data." he then ordered.
With it's order's received, the drone soon began to march towards the consoles themselves to register the recorded data it had kept & gathered. It lifted it's hands over the console ,and soon, a series of wires began to insert themselves into the console itself to upload the data. "
->Uploading data: In progress<-
" The drone had said, before the very information it had gathered began to be displayed before Lord Dragaunus himself. The space Tyrant looked on with such interest in his menacing yellow eyes. Surely such data would grant him much knowledge or at least some information of the planet and the life forms that lived upon it. He would need to know such information if he was going to plan his conquest here. He rose from his seat & began to proceed down the stairs with his long scaly tail dragging and whipping behind him, his robes flowing behind him as well. His eyes kept looking on at the screens and monitors that were currently showing the footage of the exploration made by the three drones. From there, the Overlord merely stood, watching with his clawed hands behind his back. "Hmmm....Fascinating...." Dragaunus said to himself.
He looked on carefully, assessing the footage taken from them as well. This included the fight between them and the crocodile, them and the bull elephant, as well as the chase with the cubs. "Hmm... Intriguing..." Dragaunus said to himself, placing a clawed hand under his scaly chin. He had had a first glimpse of the lifeforms around the ecosystem, including the information on the other animals the droids had witnessed. Lions, crocodiles, zebra, leopards, elephants, giraffes - nearly the entire ecosystem of the Pridelands. "There is no mistake: There indeed are other lifeforms upon this planet... and yet, they seem to show a certain form of intelligence. Primitive, perhaps, but intelligent, nonetheless..."
He looked on at the screens with a toothy grin upon his face. He was clearly amused, and pleased. Even when on of the three droids had returned and despite a single day of scouting, the droids did not disappoint. The information before the Space Tyrant placed him in a very pleased mood. He now had the entire knowledge of the Prideland's ecosystem displayed before his eyes. From as small as the mere beetle, to the gigantic elephants. As he could tell from the footage before, there were some life forms in which even he will admit seem to exhibit intelligence. The elephant for example: being able to react to danger. But the cubs, especially, caught his eye. He had paused the footage that revealed the cubs themselves. Primarily when the droids gave chase.
Dragaunus knew that this land seemed to have held many surprises. Many of which he has yet to discover. Even he knew that despite such vastness in this land, there was much more outside!... Entirely new worlds to explore, perhaps even entire civilizations... It was then, as the Overlord began to rub his red scaly chin with his clawed hand, that he had finally decided upon a new plan, a new mission. For a second expedition was to be in order. "These lands hold much more mysteries then what meets the eye. There is much more value here. I am certain of it! Perhaps even resources in which I may very well use... Yes! Resources. This land is bound to carry much valuable treasures, and if there is, I must take advantage of it! A second expedition must be launched tomorrow!" the Tyrant began to say to himself, with such a brilliant, wicked plan being formed in his villainous mind!
Last edited by Mufasa on Tue Jun 04, 2013 1:38 pm; edited 1 time in total
Administrator




Posts

: 772


Join date

: 2012-01-21


Age

: 23


Location

: Banja Luka, Bosnia & Herzegovina



Chapter III - Crossing paths
In this chapter, there will be a lot of twists. Back in the desert, Aladar and the herd are undergoing an epic journey, to find shelter, food, water, to survive. Did Simba fully obey his father and respected his strict order for him not to go to the Elephant Graveyard? Alas, no, and you will know why. He will also take his friends with him there, but there will be a nasty surprise out there...
After a long, cool night, the radiant Sun finally shone over the desert where the herd of dinosaur survivors were resting. They began to wake up, yawning and gathering at a flat spot under the outcrop. Waking up first and noticing this, Zini the lemur hopped over to Aladar, who was still asleep, restless because of last night's dream. Zini hops on his head, looking at him: "C'mon, wake up. Enough with the beauty-sleep, you're ravishing already." he says as he looked forward at the waking up herd, then back at Aladar, who was still asleep. He then leans down and opens up Aladar's eye, "Hello?! Anybody in there?" he says as Aladar gets spooked a bit, then throws his head up quickly, almost flinging him into the air, since the lemur held on. Fully awake, with Zini hanging on his lower lip, the young dinosaur asked: "Zini, what are you doing?"
"I believe you left a wake-up call for the dawn of time." interrupted Zini.
Already wakened, Aladar asked: "Ugh, what's the hurry?"
Zini replied: "The herd's gathering without us. Let's check it out."
After this, they see Bruton sounding a wake-up call himself, to one tired Iguanodon: "Rise and shine! Kron says that everybody goes." Getting impatient, Bruton tried to force him to get up more quickly by nudging him with his head: "Come on! Get up, on your feet!"
"Heh, the charm never stops around here." remarked Zini.
However, Bruton could hear this clearly enough and raised his head, since he took Zini's remark as an offense against him: "...did you say something?" he asked, looking at Aladar, suspecting he said it.
Aladar stuttered, then told the truth: "Uh, no. No, sir."
Still suspicious, Bruton walked toward him in a huff: "Unless you have a death wish, you and that little parasite better get moving!" he said, raising his voice from word to word, ending with a shout.
Aladar and Zini only pressed on, to see what the gathering was about.
"Jeez! Is he ugly or what?" ZIni asked, until noticing someone wlk by the two - it was Neera, the female Iguanodon that Zini remembered from yesterday. Wanting to tease Aladar a little, he said: "Hey, hey, hey... There's your girlfriend. Grrr..."
"What are you talking about?" asked Aladar boredly, with a chuckle.
Zini nudged his eyebrow: "You know who I'm talking about -
Neera
...Scaly skin... yellow eyes... big ankles..."
Aladar just scoffed: "Pfft, I sure made an impression on her..."
Zini suggested: "What you need is a little help from the Love Monkey..."
"The Love Monkey?" asked Aladar.
Zini then wanted to embarrass Aladar - he started to scream: "
Ow, babe!!! Ow-Ow-Ow-Ow-Ow-Ow-Ow-Woof-Woof-Woof-Woof-Wah-Wah-Wah-Wah-Wah-Grrrrrrrr!!!
"
And indeed, Neera, hearing this turned around, only to see him looking at her with a confused, dopey grin. For now, Aladar couldn't say anything smart to cover up Zini's joke.
"That, children, is known as a Jerkosaurus." the female said to a pair of young Iguanodons near her, thinking that Aladar did it.
"And with that, the ice is broken." Zini grinned, until a loud call sounded off in the front. And another after it. It was Bruton, signaling that the herd stops here, while they make their arrangements for the journey to the Nesting Grounds. When they stopped at their current spot, they were joined by Baylene, Eema, Url and the other lemurs.
Kron approached his assistant and made his rules clear in these words: "We have a lot of first-timers here. Make sure they understand - We stop for nothing, no one..." he finished. With this, Bruton faced the herd and spoke:
"If this is your first crossing, listen up: There is no water, until we reach the Pridelands! And you'd better keep up, 'cause if a predator catches you, you're on your own!
Move out!!!
" And turning forth to the road, Bruton let out another long, loud call, signifying that it's time to go. Slowly, but steadily, all the dinosaurs began to follow Kron and Bruton.
"Oh my goodness... It looks like a very long walk." remarked Baylene, looking over the horizon.
"And hot!" continued Eema: "If you smell something sizzling, could be me!"
And with that, and another look ahead, Aladar pressed on. The ground thundered under the herd's feet, as they commence their epic journey to find food and water, an Odyssey... across the desert...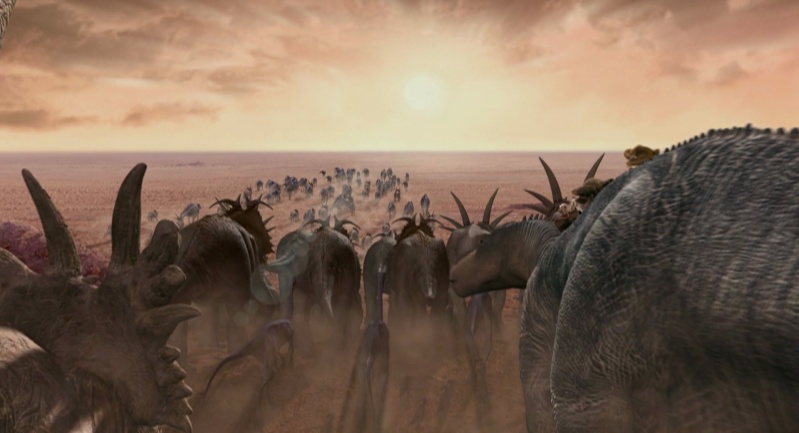 *

The Sun rose over the Pridelands as well. Though most of the lions were resting atop their rock perch they fell asleep on last night, after a hunt, some have already awoken. Like the cubs, for instance. They were chattering around, while their mothers slept.
''Simba, you always brag how you are gonna be a king someday...'' said Tama, a female cub. Unlike the others, she had a tuft of fur on her head.
Simba proudly replied: ''Well that's because I'm going to!''
Tama grinned: ''Then prove it! I dare you to catch aunt Diku's tail!''
After a moments silence, Simba bit his lip a little and then smiled: "No problem."
Nala opened her eyes and yawned, but turned her head, seeing Simba trying to do something absolutely inconsiderate! She whispered: "Simba, what are you doing?"
"Trying to catch Diku's tail." the Prince whispered back.
After hearing this, Nala snickered and kept watching.
As Simba tried to zero in, he finally pounced, grabbing the lioness's tail! She jumped up rather surprisingly, roaring. The others instantly woke up, confused!
After this, Simba laid in the grass, as still as a rock, pretending that he is asleep, because it would not be a good thing to stay above the grass with a usually short-tempered lioness!
"What, wait- Who did that?!" asked Diku angrily, as she regained herself.
"Calm down, Diku. Nothing happened." said Sarafina.
Diku then sighed deeply and looked to the sky. She then said: "It's morning. Sarabi, should we go back to Pride Rock?"
Sarabi eyed her carefully, nodding her head: "Yes. Let us go then." she turned to the cubs and to Scar: "Come along, little ones. Scar, wake up!"
Scar, hearing Sarabi, began to wake up, knowing he didn't want to. He yawned with a light grunt, sretching his claws before getting up, following the other lions back to Pride Rock. But in fact, Scar was planning something else, to move away from the pride, to have some time for himself.
The cubs, however, were walking behind the lionesses, talking amongst themselves. They usually felt bored by or shy of being around their parents and listening to their usually dull conversations, when they had much more fun talking jokes and arranging playdates.
"Jeez! Was that close or what?!" whispered Simba.
Nala interrupted: "Did you lose your mind? If Diku saw you, I don't know what she might do."
Tama: "I dared him, ha ha ha!" said Tama, grinning.
Simba made a grouchy expession. Then, all of Simba's friends begin to laugh and snicker sarcastically. Simba said nothing, as it didn't bother him very much. Still, he was a little annoyed by Tama, who apparently tricked him into doing something stupid. Actually, Tama was annoyed by the antics Simba loved to pull on her, and therefore, he took this as a sort of defeat.
As Scar was heading to his usual place to have some time for himself, he was thinking of a plan - a plan to get rid of his nephew, Simba. To get rid of one member of the Pridelands, to be one step closer to becoming king. Just before he leaps on his rock, the idea came to his mind. A sinister smirk appeared on his face, and he slipped behind the rock, to keep out of sight. He then begins to walk toward the forbidden place Mufasa had told Simba not to go to the morning before - the Elephant Graveyard itself...
The attention Simba and his friends were giving off caught the eyes of a stalker. Someone or something was stalking the cubs. Unaware to them, this was another one of their good friends, he was aiming to pounce on Simba... His name was Malka. The oldest of the cubs, Malka is slghtly taller than Simba and Tojo and has pale orange fur, brown eyes and black ear rims. His most distinguishing feature is the unique black ear tufts sprouting from his ears, as well as the brown tuft of his tail in contrast to the black tuft on his head.
Tojo then asked: "Where's Malka?"
Yet out of all the silence, Simba was surprised by a pounce, and Tojo's question was also answered. It was Malka.
Simba grunted a little upon hitting the ground, and shook his head until seeing his friend.
"Pinned ya!" the older cub said, grinning.
Simba then had enough of Malka's bigger paws pressing down on him, and frowned: "Hey, let me up!" then, he smirked: "Sneaking away, huh?"
"Sneaking away? Pfft, nonsense. I'm not sneaking away." Malka replied, and then focused his eye on two female cubs - Nala and Tama. Approaching them slowly and graciously, he asked: "Hello, ladies... Are you in the mood for some Malka today?..." he said flirtatiously.
Nala and Tama, who were standing one next to the other as they walked, looked to one another with a raised eyebrow and a confused smile. In fact, they liked Malka's personality, but they didn't really buy his courting. Perhaps it was taking effect on the male cub, because he was the oldest and was entering into a stage similar to that of boys in puberty.
"Eh.. Maybe later." said Nala.
The boys too, no matter how much they loved to play with Malka, they found this kind of behavior rather boring and adult-ish. As Simba turned to the boys, he heard what Malka was saying and rolled his eyes. Chumvi, the joker among the cubs, pointed a thumb-down and stuck his tongue out, believing that Malka will fail at this. Simba and Tojo only snickered.
"You sure?" Malka tried to salvage his attempt, seeing that they aren't buying it.
Chumvi then decided to test Malka's so-called bravery, and stepped up with a grin: "OK Malka. If you really think you're such a tough guy, then let me hear you roar!"
Having heard this, Simba and Tojo, as well as Nala, Kula and Tama, paid attention to this with enthusiasm.
Malka grinned confidently: "Alright... I will!" and climbed atop a small rock. Soon he lets out a roar....or at least what he thinks it is. Even if he was maturing to a teenage lion, his "roar" was still in the youngster stage & sounded like an angry cat.
Administrator




Posts

: 772


Join date

: 2012-01-21


Age

: 23


Location

: Banja Luka, Bosnia & Herzegovina



---
Permissions in this forum:
You
cannot
reply to topics in this forum